Nadia Marion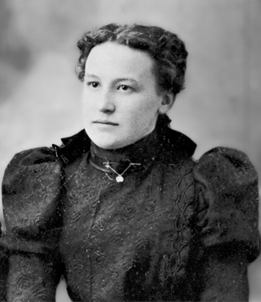 Personal and Family Information
Nadia was born on 07 NOV 1877 in Chevalier (then Pointe-aux-Roches, then Stoney Point, now in Lakeshore) ON , the daughter of Raphaël Marion and Augustine Rondot.
She died on 16 AUG 1933 in Windsor, Essex Co, Ontario, Canada .
Her husband was Donus Louis Chauvin, who she married on 14 FEB 1898 in Pointe-aux-Roches (Stoney Point, prev. Chevalier, now Lakeshore), Essex Co. ON . Their ten known children were Augustine (1898-1970), Béatrice Albertine (1901-1971), Lauretta Cecilia (1902-1973), Armand Raphaël (1905-1973), Germaine Mariette (1908-1988), Louis Henri (1910-1998), Léonard Laurent (1912-1981), Claire Nadia (1914-2007), Jerome Arthur (1919-1992) and Isabelle Marie (1920-1994).
Pedigree Chart (3 generations)
Events
| Event | Date | Details | Source | Multimedia | Notes |
| --- | --- | --- | --- | --- | --- |
| Birth | 7 NOV 1877 | | | | |
| Death | 16 AUG 1933 | | | | |
Multimedia